Important COVID-19 Information
Please note that field offices for the California Department of Motor Vehicles (DMV) and Social Security Administration (SSA) operations have also been impacted by COVID-19. We are actively sending updates through our listerv, and encourage you to stay updated via the DMV and SSA webpages dedicated to COVID-19 updates. 
Department Administrators and Scholars: At this time, the SSA is open for issuing new Social Security cards to citizens and certain immigrants, and for nonimmigrants only for critical need (see excerpt from website below, from: https://www.ssa.gov/coronavirus/).

For scholars to apply and obtain an SSN, they must call the San Diego SSA Card Office to schedule an appointment. The scholar must call the SSA field office (listed below under the first drawer) according to the office servicing and ask for an "SSN Application Appointment." The scholar will then wait for "Management" or a "Supervisor" to call back to schedule an in-person appointment. The wait time for a call-back from Management can be at a minimum of 7 to 10 days, but please prepare that it may take longer. The SSN should arrive around 7 days after the in-person appointment.  Note: All documents, including DSO and employment letters, must be originals signed in blue ink, and there is no allowance for electronic documents.
Identification Documents
Note: We recommend that the applicant's name be used consistently in all legal documentation (e.g., SSN applications, Driver's Licenses, etc.) as indicated in the MRZ section of the passport.
If you are a UC San Diego employee, you must apply for a Social Security Number (SSN). 
J-1 Scholars: we recommend that you wait 10 business days after entering the United States and 5 business days after completing the registration process at the International Faculty & Scholars Office (IFSO) to apply for a Social Security Number. J-1 scholars in the Research Scholar, Short-term Scholar, and Professor categories are eligible to apply for a SSN; J-1 Student Interns are only eligible if they are being paid by UCSD. 
For the most current and detailed SSN application instructions visit https://www.ssa.gov/ssnumber/ 
Remember that you are not a "student" for U.S. immigration purposes. When reviewing the instructions make sure to select the noncitizen option. Learn what documents you will need to get a Social Security Card
The following documents are
required
to apply for a Social Security card:
Passport
Form I-94 record printed from the

 

USCBP website and/or admission entry stamp in the passport.
Additional documents by status:

J-1 scholars (non-Student Intern category): DS-2019 form

The Research Scholar, Short-Term and Professor categories do

not

need an employer letter to be eligible for a social security number, Section 4 of the DS-2019 shows your J-1 category. Only student interns need an employment letter.
The Social Security Office may confuse your request with a category that does require an employer letter. We encourage you to print out the Social Security Program Operations Manual System (POMS) which shows that your category

does not 

require an employer letter to be eligible for a social security number:
Social Security Program Operations Manual System (POMS) - RM 10211.345 "Section A" lists the categories that do not require an employer letter: https://secure.ssa.gov/poms.nsf/lnx/0110211345 

J-1 scholars - Student Intern category:

 

employment letter from IFSO advisor; contact your advisor or ischolars@ucsd.edu for this letter
J-2 dependents: qualify only when they apply for

 

J-2 Employment. J-2 dependents can apply for work authorization and a social security number at the same time.
H-1B or O-1 employees:

 

Form I-797
Upon applying for a social security card, a receipt will be issued as the social security card is mailed. The receipt will not contain your SSN number as that is generated after you depart the SSN office. Please note that there is no change to obtain a social security number.
Social Security Offices
The local San Diego Social Security Office has indicated that you can only receive services from the social security office your zip code is assigned to. This is based on your local/home/residential San Diego address, not your work address. To see instructions, hours and other offices and services, visit their website.
To determine which Social Security Office that provides you services: https://secure.ssa.gov/ICON/main.jsp 
Most UC San Diego Faculty/Scholars tend to live in zip codes that direct them to one of the following offices: 
The Kearny Mesa Office (8505 Aero Drive San Diego, CA 92123) -  (866) 331-6397

Zip codes this office services: 92037; 92038; 92039; 92108; 92111; 92117; 92121; 92122; 92123; 92124; 92126; 92131; 92142; 92145; 92168; 92177; 92193; 92196; 92197

The San Diego Card Center (1333 Front Street San Diego, CA 92101) - (855) 820-0097

Zip codes this office services: 92092; 92093; 92101; 92102; 92103; 92104; 92105; 92106; 92107; 92109; 92110; 92112; 92113; 92116; 92118
For bus routes to these offices visit http://transit.511sd.com, or visit UC San Diego's Transportation and Parking Services website.
To obtain a UC San Diego ID card, ask your department for assistance.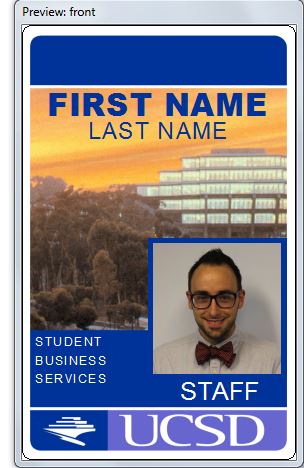 The administrator needs to complete and authorize the Campus Card Request Form. Take the completed form and go to the
Student Services Center, 3rd floor, suite 354A
. If you are responsible for the fee, it must be paid at the Central Cashier's Office located on the 1st floor of the
Student Services Center
.
An affiliated card is eligible for the following:
Postdoctoral Scholars- Fellow or Paid-Direct
Visiting Scholar
Visiting Graduate Student
Volunteer
Family members - spouses are eligible only if the principal is a paid UC San Diego employee.
Your UC San Diego ID Card can be used for a variety of discounts in the San Diego community. 
More information is available at: http://blink.ucsd.edu/HR/services/new/cards/
The State of California's Department of Motor Vehicles (DMV) does not recognize international drivers' licenses.
The State of California, however, does recognize your national driver license as long as it is valid and translated to English. We recommend that, if you plan to drive, you get a California driver's license immediately to avoid the risk of a traffic citation. Keep in mind that automobile insurance is required by law in the United States. Most insurance companies require a valid California driver's license.

The DMV requires a written test and a road test. No appointment is necessary for the written test, but an appointment and a car are required for the road test. There are driving schools in San Diego; search the Internet with the search term "Driving Schools San Diego".

Scholars in J-1, H-1B, TN, and O-1 statuses must have a social security number in order to apply for a license. Dependents must either show proof of ineligibility for a Social Security Number by getting a denial letter from the Social Security Administration or apply for a number, if eligible, prior to applying for a license.

Temporary permits can be renewed until the card is received.

For DMV locations or more information visit the DMV website.

Please Note: The DMV is often crowded, so allow ample time to complete the process.
The DMV will issue a non-driver's identification (ID) card. This is a very convenient form of identification, since a passport is not always recognized for local transactions such as cashing checks or admission to an establishment where alcohol is served. The same documents are needed as if applying for a driver's license and USCIS will have to confirm I-94 status in the United States. A temporary identification card will be issued but it will not have a photograph.
For DMV locations or more information visit the DMV website.